5 In 1 Radio Frequency/EMS/LED Skin Rejuvenation Device
Did you know that you can drastically improve your skins health, look, and feel in just 10 minutes?  Well Angel's Touch Aesthetics skin rejuvenation device has made your dreams come true!  We have paired 5 effective treatments in to one handset that will give you that radiant and youthful look that you have always wanted.  Grab yours today!
Shop Now
5 Amazing Treatments In One Handpiece...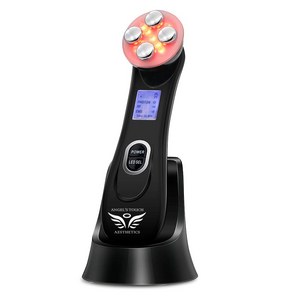 Destroy Acne & Decrease Pore Size
The 465nm wavelength setting kills bacteria, increases blood circulation, and greatly reduces acne and pore size.  It's great for oily skin and perfect to use before that big night out or any important event that you have coming up in your life!
Deminish Wrinkles & Tighten Lax Skin
The 620nm wavelength setting reduces fine lines and wrinkles while tightening lax skin at the same time!  By stimulating collagen production you will see amazing results, and it's perfect for around the forehead, eyes, mouth, and jawls!  No more need for Botox or expensive surgeries!
Erase Sun Spots & Get An Even Natural Glow
The 415nm wavelength adds radiance and a glow to otherwise dull skin. The 520nm wavelength dilutes pigmentation and dark spots to even out skin tone.  The 590nm wavelength restores balance to sensitive skin and reduces redness/vascularity.
Over 3,000 Happy Customers

Average Review Rating of 4.8/5
Skip The Botox And Cancel The Surgery!
Why spend thousands of dollars getting painful Botox injections or dangerous surgeries/laser treatments when you can safely treat yourself in the comfort of your own home pain free?
With our Radio Frequency/EMS/LED skin rejuvenation device you will get medical spa like results all while saving your hard earned money and skipping the painful downtime!
Shop Now
Safe, Fast & Effective Technology
Our device uses radio frequency waves and EMS technology deep below the skins surface to promote collagen production and muscle stimulation.  This leads to the reduction of wrinkles along with tightening of the skin.  The device also uses light photon energy to remove unwanted spots and provide you with radiant, glowing skin! 
Just choose 1 of our 5 different wavelength setting to target the exact type of treatment you are looking for!
Shop Now
Vitamin C & E + Hyaluronic Acid + EGF Serum
Angel's Touch Aesthetics is excited to bring you the most effective serum on the market for wrinkles, fine lines, skin firming, hydration, dark spots, and overall glow!  Our 100% pure and organic serum is extremely safe and cost effective at 30mL per bottle.
It also couples perfectly when using our 5 in 1 Radio Frequency/EMS/LED Skin Rejuvenation Device! 
Shop Now
Dead Sea Mud Mask
The Angel's Touch Aesthetics Dead Sea Mud Mask is a new age formula that is having a huge splash on the skincare market!  Pure, mineral-infused Dead Sea Mud has many positive effects on the skin which include minimizing & cleansing pores, removing dead skin cells, and drawing out excess oil & toxins from deep within the skin. 
Shop Now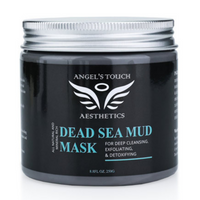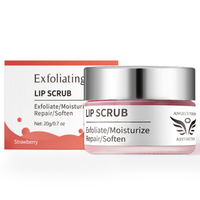 Exfoliating Lip Scrub
The Angel's Touch Aesthetics Exfoliating Lip Scrub uses fine sugar crystals alongside of some of our favorite oils and vitamins to give you a full lip rejuvenation!  Gently rid yourself of dead skin while hydrating your lips at the same time.  Use 2x per week for optimal results!
Shop Now